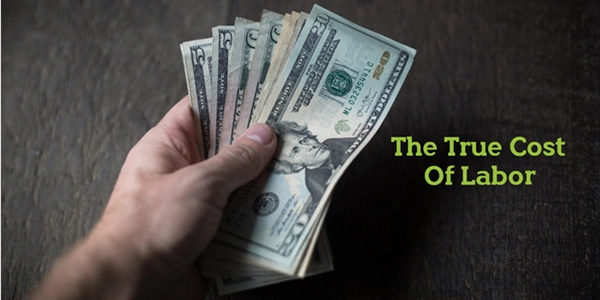 How Much Are Your Billable Employees Costing?
The Situation
Experience teaches that customers inevitably value hard assets over labor. Even though we depend heavily on labor to design, manage, fabricate and install systems, the consumer is thinking only of the 'gear' they've procured and the benefit they anticipate. Often too, consumers push back on post-installation service, believing that for the price paid, it should be included. This can leave a bad taste and often drives up business costs in an attempt to mitigate misaligned expectations. I think we've all experienced this when both closing deals and managing projects.
Objections to labor costs are amongst the most enduring. In the selling process, it is easy to focus on the gear, hoping to avoid uncomfortable conversations while capitalizing on the client's enthusiasm. Interestingly, this reticence to address these costs also tends to make firms reluctant to charge their true cost for skilled technicians, which devalues the service. There is an opportunity here to deliver key selling messages, not just to differentiate but to align expectations. This is an important area to pay attention to. Create an opportunity to differentiate your firm by focusing on the value only you can bring to the client, your expertise.
Calculating The Percentage of Billable Hours
At minimum, business owners need to understand how rates are developed and why it is important to maintain a viable and healthy labor rate. If you don't maintain a healthy labor rate you may find yourself facing a cash flow problem.
Areas that may erode billable hours include preparation and clean-up time, planning and kick-off meetings, quality assurance, travel time. (Not to mention return trips and challenges from the last 5% of the job such as troubleshooting.) Essentially, if you can correctly track your time, the hours actually paid for by the client are your billable hours. To learn, you'll need credible metrics for every job. You'll want a robust system in place to track, not only where your time has gone, but what you are not paid for including amounts you may have negotiated off the final labor bill or that the client may have chosen not to pay.
Industry Averages
Though this varies for each Industry, the percent of hours actually billed can be a lot lower than expected and for more efficient firms can range between 40 and 60% of the employee's annual hours. So for a single employee, 2000 hours per year would render billable hours in the range of 800 – 1200 hrs.
Keep in mind the above calculation addresses your true cost. Most cost accountants would counsel 2 – 2.5 times true hourly cost when calculating retail for a skilled trade. This gives an acceptable margin for overheads, warranty, inefficiencies and profits. For a $50/hr calculated billable cost, charged rates should be $100 – $125/hr. (I recently paid $145/hr for my boat mechanic.)
There is a question implicit in this. Should the client pay for inefficiencies? If these are incurred because of lack of preparation, training or due to other internal stresses, the rate could be uncompetitive. If on the other hand, the client, site or external circumstances are problematic and you are aware of this, you will want to include this to ensure you are not subsidizing, but rather realizing the profits you need to stay in business. Keeping good records can justify this and assure the client that you are well organized.
Educating Your Clients
Feeling confident that the billing rate is justified and understood, can shift the energy when selling your services. The sales rep can lead, educating the customer by addressing what it takes to 'do the job right'. This helps customers appreciate a firm's value and more effectively discriminate when shopping for services. For instance, the strategy may be to charge only for the time on site, where the client can assess productivity and feel they have some control. Letting them know that you are absorbing travel time, preparation, client training etc, helps them better understand your fees. As mentioned above, these hours drive your billable rate up, because they are tracked in your costs per the equation above. A discussion regarding fixed rate versus variable rate can also help the client better understand your value and the risk inherent in the project.
Conclusion
Conversations around the true cost of labor, essentially pricing right, can reassure the customer that you are running a solid business. Don't assume the customer knows. Take every opportunity to help educate and therefore differentiate your services. Spending the time to really understand the cost and value of your most critical resource will pay off. Tracking your true cost of labor will also help isolate and capture opportunities for improvement.