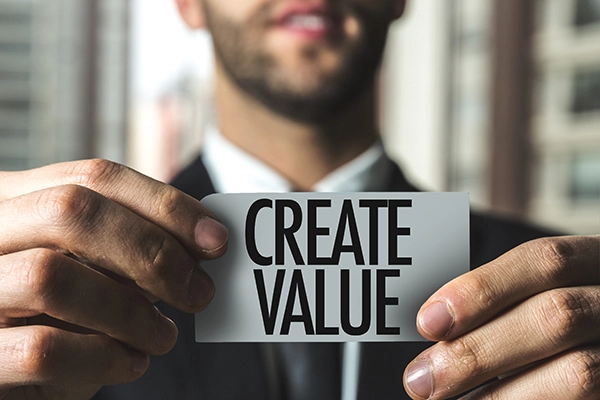 Profitable Companies learn how to charge for their services and how to pitch their value.
Value is dependent on internal systems as well as commitment and discipline to support and iterate these systems. This guides employees through proven processes to achieve predictable and quality results. By tracking all aspects, especially labor, firms know both their true costs for billings and where and when to change processes. Successful tracking and responsive processes set good companies apart.
Undercharging for labor is one symptom that a company has not made a commitment to effective systems. This is because first, the true costs are unknown and second sales is not able to confidently engage prospects in their company's unique value whether people or processes. Believing most customers are reluctant to pay for labor, and do not see or appreciate processes, salespeople are tempted to bypass these less tangible values, especially if they are unclear or unsupported in the company. Indeed, sales will typically default to product features.
The importance of strategies for selling true value, of both labor and processes is key to sustained profitability. A savvy salesperson will know how to communicate key nuances especially those involved with emotional investments. They paint a picture that informs a customer, going beyond product features. Successful sales require knowledge of the full value of the company's intangibles as well as their product offerings. These intangibles are an essential differentiator and can lead great customer experiences. If a company isn't willing to invest in knowledge, processes and training, or is unclear of how processes guide performance in delivering the promise, over time, there is little other than product and price to focus on. As attention on value drops, markups drop. A fully committed company will drive processes and focus on selling value at a sustainable and profitable margin.
To build a picture for the customer, to 'feel' what true value means, sales personnel need to hone storytelling skills. "The head is attached to the price; the heart is attached to the wallet. If you jerk on the heartstrings, the wallet comes popping out of the back pocket." My head might tell me that it takes a few hours to install a speaker, but when I really engage, I paint a picture: the details involved in doing this professionally, the time to run speaker cable away from interference, to install connectors and fittings that minimize distortion and to craft fit and finish to ensure beautiful integration into the home. Educating the customer in this way is the 'heart' of effective communication.
Effective storytelling uses both outward facing and internal knowledge. Outward facing knowledge involves understanding the customer: what they want, what excites them, how to draw the customer into a framework that builds on service and value. Stories help the customer understand and engage emotionally with the offering. Good salespeople create context and credibility, build rapport and, done well, take the conversation from head to heart. This is critical to build credibility and rapport but also to be able to field objections and to maintain control over the conversation. Even the proposal's look and feel, is part of this. A folder full of numbers drives straight to the head, whereas lifestyle shots, engaging copy which includes clear, experience-based examples, along with customer testimonials and referrals, is very powerful.
Internal knowledge includes: understanding what it takes to do the work, knowing at heart level how valuable your people and services are. This points directly to the business infrastructure. Knowing job history is tracked and reviewed, supporting what it takes to do the work well. Throughout the process, does the company engage with customers to ensure knowledge of and responsiveness to any disconnects or issues? This builds confidence in the quality delivered and sets the company up to ask for testimonials and referrals. Customer engagement begins with the sales process and extends through the installation and final calibration. It culminates during the client training when listening to stunning detail, having created an accessible, impactful, yet easy to deploy and embracing experience.

Crafting a pitch that guides the prospect, bringing them closer to the teams' values and the company's commitment, helps fully engage with the experience rather than cost. This is full immersion. From the brand created, with customers who rave, to the messages repeated inwardly to the team.
In well run companies, the team too connects at heart with the business, mission and the experience being created for the customer. Done end to end, from customer to referral, team commitment extends through all facets of the business with a relentless mission to hunt down and tame all elements of the business. This is critical, especially when there are so many variables in play.
Firms that don't have a way to track operations, to harness the details, and validate costs, to know what it really takes in the field, are running on assumptions. They are missing opportunities. Systems produce the knowledge that fuels improvements, confidence and the imagination. This also supports and reinforces the sales team's stories, infusing the pitch with credibility while preparing prospects to understand what differentiates from competitors. This demonstrates to clients the level of commitment and detail that builds a professional operation and creates powerful experiences.
As products get commoditized it is even more critical to nail the sales process and by so doing create opportunities to emphasize the value of services. Employees and systems are the differentiator. Consider what it takes to do the work, including training and diverse skillsets. Also, the unpredictable nature of work sites creating interruptions and challenges and the impact this may have on the client's installation. Think about what the buyer needs to both learn and understand when making a decision. Prepare well to counteract the bias that undervalues less tangible assets, especially labor. These all play an important part in telling the story and ensuring the right business is closed at the right price.