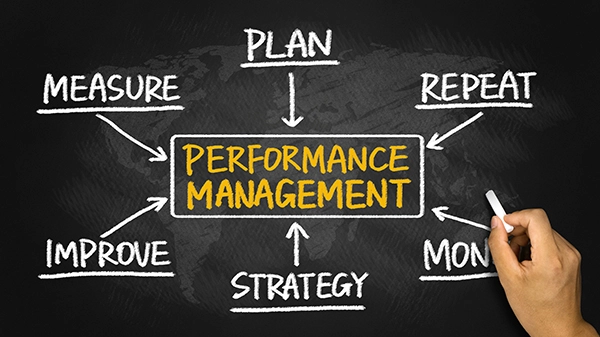 Successfully measuring and improving your team members' performance must be an ongoing process, not an event. 
It's an absolute truth that team members should not hear negative feedback for the first time in a performance review meeting.  The opposite is also true: positive feedback should be delivered when good performance occurs.

Without the benefit (or hindrance) of an employee review form, how do you measure team member performance? In my experience, I picked up two ways to think about assessing performance. The first has you think about performance across three factors:

Results. Clearly, this is the most important factor to consider. What are the results of the team member's work? If he or she works with customers, was the job delivered on time and within budget with customer satisfaction. For administrative jobs, does the work contribute to team members believing they are well supported by the company.
Attitude. We all have our moments. But a team member that produces a constant stream of cynicism and complaint will hurt the performance of your team and make your company a less desirable place to work. Attitude isn't about walking around with a smiley face all day every day. It is about understanding that your words and actions can negatively affect others.
Teamwork. Here's a truth about company culture: the ideal is usually created at the top of an organization and the reality is delivered by the team itself. The best performing teams I managed were self-regulating, with team members helping each other and reinforcing behavior and performance standards. If you have a team member that constantly snipes at others or hoards information to inflate his or her own value, you have a problem.
In my experience, when every team member performs well across all three of these factors, you have a healthy, high performance team. It's always difficult when you have a team member who drives great results but also finds ways to drive everyone around them crazy. My advice: don't put up with it. And the second way to think about performance will help you see why:

Contributions – Distractions = Value

Whenever I found myself making excuses for an employee's performance, this simple calculation helped me get over myself. The fact is that a high results employee that drains the rest of the team's morale isn't worth it. And a nice person who talks a good game but doesn't deliver results isn't helping your company success.

So there's two ways to think about performance. In our next blog, we'll talk about how you can apply these every day in your business.