Congratulations!  You started a business, it's growing and you're busy.  Now what?  Do you still own a business or do you own a job?  Most owners in the skilled trade industry start out as technicians but quickly have to learn how to run and manage a business.  There are a lot of different skills used to run a business like Accounting, Sales, HR and more.  Probably the most important skill a new entrepreneur should learn is how to delegate tasks and responsibilities.
There are 1000's of books and courses out there that can teach you how to become a better business owner but the truth is, you have to find out what methodology works best for you and your business.  You started your business because you have a unique way of delivering a product and or service.  That uniqueness is your business's personality.  When implementing change into your organization, you have to be careful not to disrupt the personality and culture that you originally created (unless it needs it).  Humans can only change so much and adopting one of these methodologies can kill a business and it's employees if you're not careful.
So which methodology is the best for you?  Let's look at three that are vastly different but I feel can make a transformational change in your business.
Lean Six Sigma – Removing Waste From A Process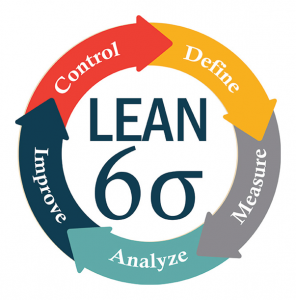 Lean Six Sigma has been around for decades and has been predominantly used in manufacturing settings. It's also very similar to the "Agile" methodology which is used in software development.  
I fell in love with Lean Six Sigma when I worked at JL Audio.  At its core, Lean Six Sigma is a methodology that uses a set of tools aimed at removing waste from a process in order to gain efficiency.  JL Audio used a lot of these concepts to build out their assembly lines which led to lower defects, higher margins and product innovation. 
In 2018, I earned my Lean Six Sigma Black Belt and I teach courses on how to develop business processes using the tools of Lean Six Sigma.  These tools can be used for problem solving, process improvement, and more.  What I like most about them is that it doesn't require a disruptive change to your business to implement them.  Once you understand the benefit and how to use them, you simply apply them when necessary just like pulling out a tool from your tool box. 
Do you wonder why after every final your team forgets to put all of the device remotes in a bag?  I'm sure they simply forgot or they just have too many things to take care of in the final stage. Here is a case where we could use a tool called the 5 Whys to solve the problem.  Ask the question to your team 5 times and by the fifth Why, you'll get to the root cause of it.  This is just one example of the simple tools that Lean Six Sigma provides and you can use them whenever the problem presents itself.  
Lean Six Sigma is a mindset.  To be successful, you need to have a culture of flexibility and continuous improve.
EOS – An operating system for your business
The Entrepreneurial Operating System was started in the 90's by an entrepreneur who had developed a system made up of simple tools, concepts and methodologies.  The "system" is something that gets implemented into your business.  While Lean Six Sigma is a tool that you can use at any given moment, EOS is an operating system that your business runs on.  Your entire team will be involved in the process and typically you use an EOS Implementer to assist with the implementation.
While not for the faint of heart due to the amount of change behavior that is required to have a successful implementation, EOS is a proven system that helps make transformational changes to a small business.  It can help improve team cohesiveness, communication, customer experience, profit margins and more.  There isn't an area of your business that EOS won't touch and improve upon. 
OKR's – The Ultimate Goal Setting Technique
Objectives and Key Results were developed by Andy Grove while working at Intel and they were a key component to turning the company around and into a power house in the tech world.  OKR's are a goal setting system that when used properly, can make big impacts to how a company functions and grows. 
Objectives are the goals that you want to achieve whether that's for the overall business or for individual areas of the business.  Each objective is supported by 3 to 5 key results.  These key results are specific benchmarks that can be monitored and measured and if achieved, will allow you to hit your Objective.  
Put more simply, the Objective is WHAT you want to accomplish and the Key Result is HOW you are going to accomplish it.  It's almost like reverse engineering a goal because you set your goal, and then list the 3 to 5 items that it will take to hit it.
Here is a good example for an OKR that a Custom Integrator might create and how these Key Results will help them achieve their Objective.
Objective:  Grow top line sales from $2M annually to $3M annually.
Key Result #1:  Send 2-3 newsletters out a month to existing clients about new products and upgrade opportunities.  
Why this works:  Assuming that this integrator's average job is $100,000, with this much communication going out to existing customers, there is a good chance that some additional business will come from the client outreach.  The KR is also measurable meaning we know if the Marketing team sent out 2-3 newsletters a month or not and you can dig further into the software used to see what your open rate is.
Key Result #2:  Host 2 CEU educational courses at the showroom per month.
Why this works:  By offering CEU courses and getting architects and designers into your showroom, this will build relationships which can lead to referrals.  In this case, you should be targeting architects and designers that work on projects that are your ideal client profile.
Key Result #3:  Meet with 4 new custom home builders a month.
Why this works:  By meeting with 4 custom home builders a month that target your ideal client profile, you will build new relationships which can lead to referrals or more work.
While these actions may not guarantee a boost in sales, they are targeted, specific and measurable.  At the end of a month or quarter, you can look back and see if the sales grew and if you achieved the key results.  If not, you can make adjustments for the next quarter which may be an increase in activity or adding Key Results that will help you reach the Objective.  This flexibility is what makes OKR's the ultimate goal setting methodology that is easy to implement.
Implementing Change
Regardless of what methodology you use to make improvements or changes in your business, implementing them is always the hardest part.  
When it comes to implementation, there are four key areas to focus on in order to be successful.
Team Buy In:  Make sure everyone is on board with the change that's about to be implemented and make sure they understand the goal(s).  How will these changes make their lives and the company better.
Clear Documentation:  Is the goal written down?  Is there a SOP (Standard Operating Procedure) written up about the change?  Was everyone trained on what they need to do?
Management Oversight:  As an owner, you have to walk the walk and talk the talk.  Success is measured by the adoption of leadership.
Monthly Audit:  Habits are hard to adopt which is why these changes have to be discussed monthly.  Find out what's working and what's not so you can make the necessary changes to keep the old habits from forming.